2012 Space Rocks Sixty Challenge Collection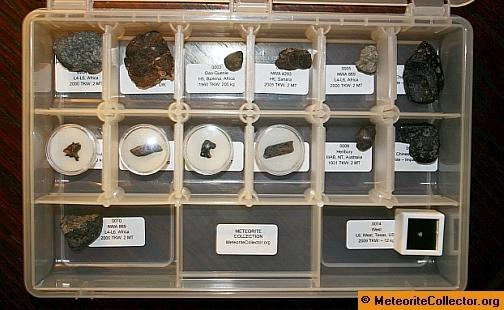 Meteorite Collection
This is a challenge list of sixty meteorites selected by Russ Finney based on considerable input from the CN Space Rocks forum members. The "2012 Space Rocks Sixty" is a significant quest list for any level of meteorite collector to use as a learning, research, and collection building tool.
The list contains meteorites based on appearance, history, scientific value, and popularity. Some are easy to obtain (widely available and affordable) and some are very difficult to obtain (rare and expensive). But the total challenge list provides a good base to learn about the hobby and to understand the fundamentals of space material. Looking up each stone in the MET-BULL can provide a good insight into the characteristics and history of the various selected quest specimens - it can also provide clues as to specimen availability and sources:

http://www.lpi.usra.edu/meteor/metbullcheck.php


Good luck to anyone who decides to pursue this quest - may it provide you with years of collecting satisfaction and a well deserved sense of accomplishment.
Allan Hills A7600
Allende
Almahatta Sitta
Ash Creek
Barbotan - Historic (1790)
Breham
Camel Donga
Campo del Cielo
Canyon Diablo
Chergach
Chinga
Cumberland Falls
Dar al Gani 400 - Lunar
Dhofar 007
D'Orbigny
Ensisheim - Historic (1492)
Esquel
Gao-Guenie
Gibeon
Gold Basin
Gujba
Henbury
Holbrook
Imilac
Juancheng
Krasnojarsk - Historic (1749)
L'Aigle - Historic (1803)
Lake Murray
Lost City
Mifflin
Millbillillie
Mundrabilla
Murchison
New Orleans
Norton County
NWA 869 - L4-6
NWA 2999 - Angrite
NWA 4925 - Martian
NWA 5000 - Lunar
Pallasovka
Park Forest
Pasamonte
Peekskill
Peña Blanca Spring
Plainview
Portales Valley
Sayh al Uhaymir 001
Siena - Historic (1803)
Sikhote-Alin
Seymchan
Tagish Lake
Tatahouine
Travis County (a)
Vaca Muerta
Valera
Weston - Historic (1807)
White Court
Wold Cottage - Historic (1795)
Zag
Zagami - Martian

Copyright © 2014, MeteoriteCollector.org, All Rights Reserved